Quantifying your force measurements with this Digital Dynamometer!
Join one of our interactive demos
EasyForce is a Digital Dynamometer that takes the guess work out of muscle manual muscle testing. We would like to show you how simple it is to use EasyForce to make fast and accurate measurements. For this reason, we have arranged a number of interactive sessions where you can come online to see a demonstration. This is an ideal opportunity to ask any open questions you may have. To book a session, just click on the button below and select a date that works for you in our calendar.
Can't find a suitable date? No problem, just contact us and we will arrange a session especially for you.
Book an online interactive demo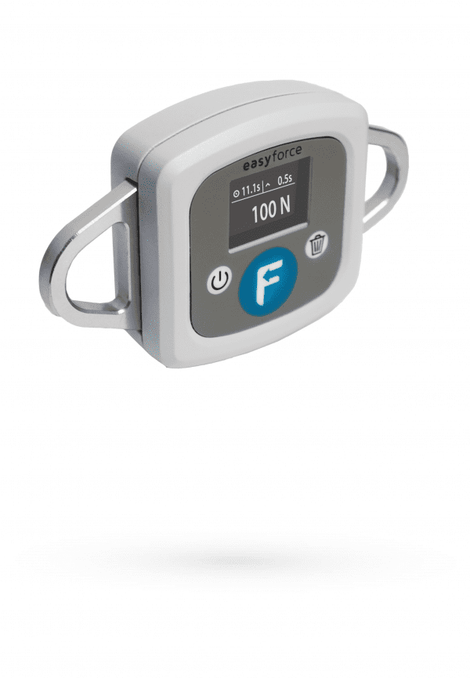 EasyForce Digital Dynamometer
Quantifying muscle force production
Everything can be measured
In the current day and age, the treatment of musculoskeletal problems is often time limited due to the drive towards more efficient and profitable business. At the same time, there is an increased need to provide evidence of effectiveness of treatment in order to receive reimbursement from health insurance providers that are funding the treatments. Muscle function, biomechanics and treatments remain fairly consistent requiring restoration of range of motion and muscle strength. The increased demand to quantify the effectiveness of treatment adds an additional burden during time constrained in-clinic appointments. It is therefore essential that practitioners have access to tools that allow for fast and accurate assessments while addressing the time limitations of a modern clinical practice.
EasyForce, a new and effective tool for the measurement of muscle force production, further enhances the quantifiability of in-clinic therapies. EasyForce allows practitioners to measure muscle force objectively in-clinic reducing the need for subjective measures and providing valuable data to aid in the design of treatment plans.
Videos demonstrating Digital Goniometer Usage
Measurement for Motivation
Encouraging patient progress
One of the biggest benefits of using the EasyForce Digital Dynamometer is the ability to easily and quantifiably communicate patient status. The number is easily readable on-screen allowing the patient to see the measurement of muscle force production. The speed of use allows for measurements at each patient visit so they can see the impact of their consistent efforts.