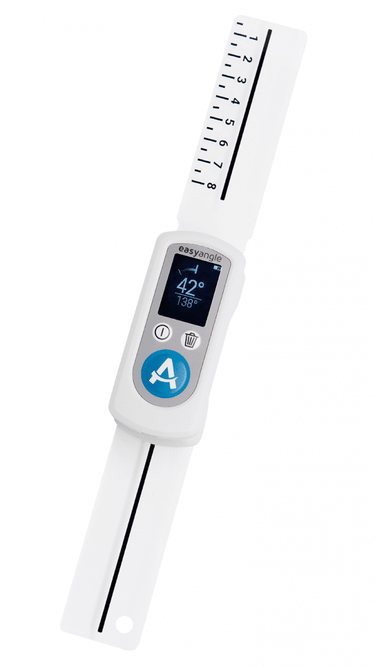 Quantifying physiotherapy has never been so easy with this Digital Goniometer and Inclinometer!
Join one of our interactive demos 
EasyAngle is more than a Digital Goniometer. It also functions as a Digital Inclinometer, Scoliometer, BROM and CROM. We would like to show you how simple it is to use EasyAngle to make fast and accurate measurements. For this reason, we have arranged a number of interactive sessions where you can come online to see a demonstration. This is an ideal opportunity to ask any open questions you may have. To book a session, just click on the button below and select a date that works for you in our calendar.
Can't find a suitable date? No problem, just contact us and we will arrange a session especially for you.
Book an online interactive demo
EasyAngle Digital Goniometer
One Device to Replace Goniometer, Inclinometer, Scoilometer, BROM and CROM
EasyAngle Digital Goniometer
Range of motion measurement has traditionally been performed using plastic goniometers, inclinometers and multiple other devices that require both hands for use and are difficult to read. This has led, in many cases, to Physiotherapists making "eyeball" assessments rather than accurately quantifying a patient's range of motion. The lack of quantification has led to Physiotherapy being viewed as less scientific in some countries. When we developed EasyAngle, it was with the goal of making it the stethoscope of Physiotherapists! In just two simple clicks you can take accurate reliable measurements. As a Digital Goniometer, it allows you to measure flexion, extension and rotation. As a digital inclinometer it enables you to measure cervical, thoracic and lumbar flexion, extension, rotation and side bending. You can also measure the Cobb angle on a scoliosis. EasyAngle has an inertial measurement which also allows you to measure all three orthogonal planes of the scapula, even the transverse plane.
Five Devices replaced by EasyAngle
Goniometer

Plastic – 10$
Digital – 400$
Inclinometer

Plastic – 70$
Digital – 350$
Scoliometer
Plastic – 40$
Digital – n/a
BROM

Plastic – 415$
Digital – n/a
CROM
Plastic – 420$
Digital – n/a
Videos demonstrating Digital Goniometer Usage
Digital Goniometer – Clinical Evidence
EasyAngle is a digital goniometer and inclinometer supported by clinical evidence. Many reliability studies have been performed comparing EasyAngle to traditional goniometer, inclinometer and BROM. EasyAngle has also been tested against video systems for measuring scapula mobility. In all cases, EasyAngle has performed well and was even reported to be better than the gold standard for measurement of cervical range of motion (CROM device).
With many studies completed and more underway, you can rest assured that you are using a device that confirms to the highest clinical standards. Insurance companies often require accurate measurements when assessing claims. With EasyAngle, the process of taking these measurements is fast, consistent and reliable.
Book an online interactive demo
Svensson M, Lind V, Löfgren Harringe M.,
Karolinska Institutet (2018)
Karin Fröjd,
University of Uppsala (2016)
Sebastian Köcker,
Universitätsklinikum Freiburg (2017)
Emilie Brinkeback & Emma Lundqvist,
Karolinska Institute (2015)
Silverson OA, Cascia NG, Hettrich CM, Heebner NR, Uhl TL
University of Kentucky, Lexington, KY (2019)
Measurement for Motivation
Encouraging patient progress
One of the biggest benefits of using the EasyAngle digital goniometer is the ability to easily and quantifiably communicate patient status. The number is easily readable on-screen allowing the patient to see the difference in range of motion between opposite joints. The speed of use allows for measurements at each patient visit so they can see the impact of their consistent efforts.
What our customers have to say…
Some of our EasyAngle testimonials